Pre Paid Funerals

Financial Conduct Authority (FCA) regulation of pre-paid funeral plans – an update as at 21 February 2022
There is increasing media interest in the funeral planning industry as it moves towards FCA regulation. Our funeral plan provider, Ecclesiastical Planning Services, has applied for authorisation by the FCA and remains positive that it will be authorised from 29 July 2022 when the new regulation becomes effective.
Ecclesiastical is also supporting a number of other funeral plan providers that do not intend to become authorised by the FCA and wish to make suitable arrangements for their existing funeral plans.
We can confirm that Ecclesiastical's pre-payment funds remain safe and secure, and we urge customers not to be concerned at this early stage. We will provide a further update in due course.

Planning a Funeral in Advance

Many people wish to provide for their funeral expenses and a funeral pre-payment plan is a caring, sensible and cost-effective way to do so.
Our funeral plans allow you to make financial provision for the costs of your own funeral in advance and save your loved ones from having to make many difficult decisions on your behalf at an extremely emotional time.
The advantage of a pre-payment plan is that you can secure the cost of our professional funeral directing services and pay in advance. As long as you use us for your funeral and your requirements don't change, you or your family won't be asked to pay a penny more for our services, no matter when the service is required. You can also make a contribution towards the fees payable to third parties which are outside of control and cannot be guaranteed.
Your funeral pre-payment will be securely held in a guaranteed whole of life assurance policy and ring-fenced for your funeral. At the time of need, it will be released to us to carry out your funeral in accordance with your wishes.
Advantages of a Pre-payment Plan
You can choose your funeral arrangements, for your own peace of mind.
You will save your family from having to make many difficult decisions at a distressing time.
Funeral costs have risen over the years, so it makes sense to make a financial provision in advance.
The service will be provided by a funeral director of your choice.
You can make a single payment or pay by monthly instalments, whichever suits you.
All enquiries and arrangements are treated in confidence.
*Terms and conditions apply to Pre-Paid Funeral Plans – -please ask for details.


Frequently asked questions about a pre-planned funeral
Is there an age limit or health restrictions?
Anyone aged 18 or over can take out a plan. There is no upper age limit and no medical or health questions to answer.
Can I pay by installments?
Yes, you can pay for your funeral plan in instalments over 1, 2, 3, 4, or 5 years. There is an additonal cost for paying by instalments over 2, 3, 4 or 5 years. This is held in the pre-payment plan and used for the funeral when the time comes.
If your plan is needed before you have completed your instalments, the payments you have made will be used as a contribution to your funeral.
What if I die away from home?
We recommend that you take out travel insurance when you go on holiday, especially if you travel abroad, which usually covers bringing you back home if necessary. Alternatively we can quote for the extra cost involved.
What if I move home?
If you move, you should be able to transfer your funeral plan to another Funeral Director in that area. Funeral costs vary from one area to another and you will be advised of any difference in cost at that stage.
Can I buy a plan for someone else?
Yes. We find that many of our clients choose to do this.
What if I change my mind later?
If you change your mind within the first 30 days of receiving your plan documents, you can return them for a full refund.
If you cancel after 30 days, you'll receive a refund of the original amount paid, minus the management fee.
How do I know the money will be safe?
Our funeral plans are administered by Ecclesiastical Planning Services, a national plan provider which arranges for your pre-payment to be held securely in guaranteed whole of life assurance policies. This ensures that every penny of your funeral plan pre-payment is ring-fenced to be used when a funeral is required. Ecclesiastical Planning Services is a registered provider of the Funeral Planning Authority and strictly adheres to its Code of Practice and guidelines for professional practice.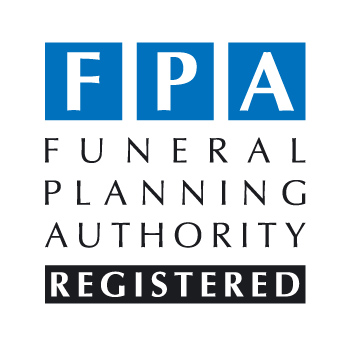 We are here for you
Chalcraft Funeral Directors are available by telephone seven days a week on 01903 812656.
Alternatively, you can email us at info@chalcraftfunerals.co.uk
Should you prefer a home visit, this can easily be arranged. We will then advise you about all of the necessary arrangements and help and support you right through to the day of the funeral.